What was Aaron Hernandez's net worth? Slain Footballer's Brother Attacks ESPN Office, Gets Arrested Late NFL player Aaron Hernandez was one of the most recognized faces in the sport when he played for the New England Patriots as a tight end from 2010-2012 which helped him amass great wealth. However, his stellar NFL career was not without controversy. His career came to an abrupt halt and was eclipsed after he was convicted of first-degree murder in the killing of 27-year-old semi-pro footballer, Odin Lloyd, according to Celebrity Net Worth.
During the 2013 offseason, Hernandez was arrested and charged with the murder of Lloyd, a semi-professional player who was dating the sister of Hernandez's fiancée. Following his arrest, Hernandez was immediately released by the Patriots. He was found guilty of first-degree murder in 2015 and sentenced to life in prison without the possibility of parole at the Souza-Baranowski Correctional Center. While on trial for Lloyd's murder, Hernandez was also indicted for the 2012 double homicide of Daniel de Abreu and Safiro Furtado; he was acquitted after a 2017 trial.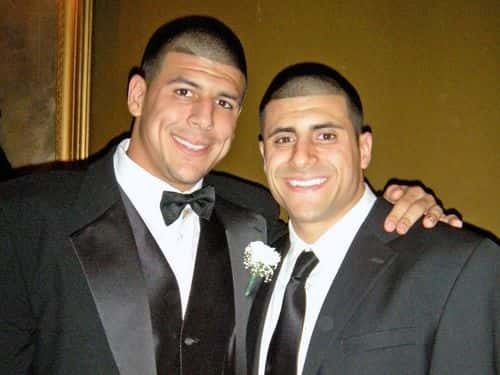 More recently, Hernandez's brother, Dennis "D.J" Hernandez was arrested last week after allegedly throwing a stone at the ESPN headquarters building with a note attached to it. According to TMZ, the police officers in charge of the case said that the note read, "To all media outlets. It's about time you all realise the [e]ffect media has on all family members. Since you're a worldwide leader maybe you could lead how media and messages are delivered brick by brick. Clean it up!" The police say the note was signed, "Yours truly, Dennis J. Hernandez."
---
Aaron Hernandez's brother DJ was arrested "breach of peace" for allegedly throwing a brick at #ESPN HQ in Bristol on March 23. The brick came with a note that read: pic.twitter.com/rVrrO6loLH

— michael j. babcock (@mikejbabcock) March 27, 2023
---
Aaron Hernandez was an American football player who had a net worth of $50 thousand at the time of his death in 2017, according to Celebrity Net Worth. During his murder trial, it was revealed that he was nearly broke and attempting to liquidate assets such as his house and Hummer to cover his legal bills. His arrest, conviction, and death garnered lots of media attention, and a documentary titled Killer Inside: The Mind of Aaron Hernandez was released on Netflix on January 15, 2020.
Hernandez earned a $540,000 base salary in his first NFL season, and in August of 2012, he signed a 5-year, $40 million contract with New England that came with $16.5 million in guaranteed money and a $12.5 million signing bonus. He was set to earn $1.3 million in 2014, $2.3 million in 2015, $5 million in 2016, and $6 million in 2017. A variety of lucrative bonuses based on performance and playing time could have also been earned had he been able to stay on the field.
It's estimated that Hernandez missed out on at least $30 million in potential future money due to his off-the-field troubles. After being released, the Patriots successfully refused to pay Hernandez $3.5 million worth of guaranteed money, a $1.323 million base salary, and an $82,000 workout bonus.
During his brief NFL career, Hernandez earned a total of around $11 million in NFL salary. The vast majority of his earnings came from the signing bonus Aaron received in 2012, a 5-year, $40 million contract with the Patriots. He would go on to earn only around $10 million from that contract.