Vivek Ramaswamy Wants to 'Distinguish' Himself From Donald Trump Through This Policy Vivek Ramaswamy has managed to capture the attention of fellow politicians and supporters after a stellar delivery at the recent debate. The entrepreneur's sole focus is to be as 'distinguished' as possible from former President Donald Trump. He wants to do so through his unique policies. More than that, he wants to transform himself into a genuine Republican candidate whose values are MAGA-centric.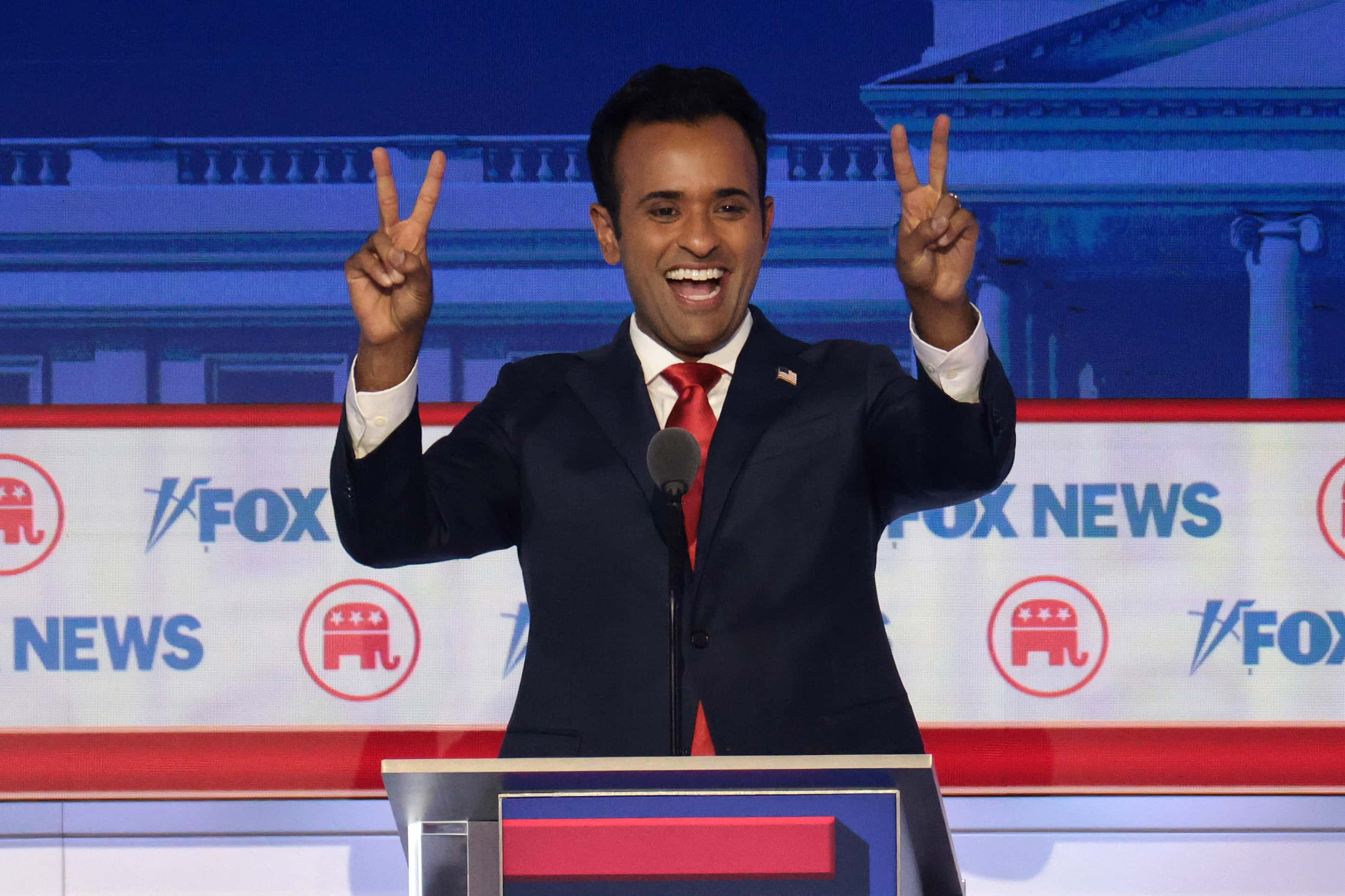 Also Read: When Melania Trump Allegedly Adjusted Prenup With Her Husband Donald Trump Amid Media Scrutiny
As per CNN, Ramaswamy has defended Trump on numerous occasions despite his criminal accusations and recent indictments. Last month, he sang high praises of Trump and labeled him as the "greatest president of the 21st century." Although the budding politician firmly defends and supports Trump's vision, he pointed out the one thing his role model has failed to address efficiently while in power.
And that is none other than to talk about "shrinking the size" of the federal government. He is hard at work to set himself apart from the twice-impeached president and wants to prove his allegiance to the Republican Party and the public so that he can fulfill his responsibilities in 2024.
Although Ramaswamy is incredibly motivated and enthusiastic about further steps, seasoned veterans fail to be convinced that he is any different from Trump. "He needs to differentiate himself from Donald Trump," claimed one such veteran Republican campaign strategist.
Also Read: Joe Biden Warns People About MAGA Movement Leading to The Death of Democracy
In addition, he stresses that "if he wants to go to the next level," it's important for Ramaswamy to figure out his own unique persona instead of "trying to be him [Donald Trump]." It appears that these thoughts have most definitely reached the man because, as of Wednesday, he unveiled details about some incredible new policy in play.
Also Read: Donald Trump Claims Mar-A-Lago Is Worth Billions Amid Judge's Devaluation to Millions
The entrepreneur seemingly took it personally when he was criticized for being grouped up with Trump in terms of political standards and ethics, among other reasons. But on Wednesday, September 13, he set the record straight once and for all. Ramaswamy gave a detailed description of a policy to irradiate numerous federal agencies. This wasn't all; he also offered a solution to implement mass layoffs of federal employees, per Reuters. This power move of his has already proven to be fruitful, as it now adds pressure on other Republican candidates, including Trump, to come up with something innovative.
After talking about his policy and succeeding in establishing his unique persona and what he brings to the table, he delivered yet another powerful statement in his speech on Wednesday, per the New York Times. "The people who we elect to run the government ought to be the ones who actually run the government, not the managerial bureaucracy and three-letter government agencies," said Ramaswamy.
He also gave the former president ample credit for "taking more steps than have been taken in a generation with the schedule F exceptions that they began late in the term, aided by many people in this room." And concluded it by offering his own thoughts on 'getting the job done. "We're going to have to confront several myths that had been perpetuated in this town by advisers and members of the very bureaucracy we're looking to shut down."
More from Inquisitr
Podcaster Joe Rogan Consistently Declines to Interview Donald Trump: "I Don't Want to Help Him"
Joe Rogan Says He'd Vote for Donald Trump Over Joe Biden in 2024: "The Country Was Thriving"