Here's Checking Out the Best Dressed Celebs on the Iconic Red Carpet of the Cannes Film Festival 2023 The Cannes Film Festival is the ultimate platform for talented and gifted filmmakers to showcase their skills with flair and panache in front of the biggest names in the Hollywood industry. From well-seasoned veteran actors such as Robert DeNiro, Harrison Ford, Michael Douglas and Denzel Washington, to the newbies of the industry that have already left an astounding impression like Zendaya, Tom Holland, Timothée Chalamet and Millie Bobby Brown, the much-anticipated festival was truly star-studded.
This film festival is the Met Gala for critics to lay forth an ethos for the future of the film industry and, of course, becomes a debut stage for directors new and old. However, the aspect of this festival aspect steals the show is the iconic Red Carpet upon which the stars tread gracefully, showcasing their bombshell looks and creations from respective designers such as Gucci, Versace, Channel, Christian Dior and Georgio Armani. This year was no short of a fantabulous show, with celebs serving look after look in intricate, bold and marvelous designs. Take a look at this year's best dressed:
1. Fan Bingbing
First on the list is the iconic Chinese actress Fan Bingbing who stunned the crowd with her tiger-in-the-woods rendition etched on her gown designed by Christopher Bu. The strapless gown paid homage to the majestic tiger as it stealthily treads upon the ground surrounded by shoots of bamboo. Bingbing's hair was tied up in a bun with a traditional "Ji" - a hairpin - and she wore a vibrant amalgamation of jade and emerald jewelry.
2. Helen Mirren
The 77-year-old actress can still make hearts race as she pays homage to Cinderella in her own way. The Del Core-designed periwinkle full-sleeved dress perfectly displayed Mirren's best features. Wearing a linked chrome chain with a diamond pendant followed by matching diamond earrings from Bulgari, Mirren truly shone. The blue hair interloped with her blonde hues enhanced and completed her entire look.
3. Elle Fanning
It's no doubt that Fanning has been known for her enchanting outfits. This year she donned a stunning Alexander McQueen gown featuring a chrome silver dazzling corset with a delicate tuile that flowed in a train. Fanning had her hair up in an elegant bun and paired it off with a lovely layered choker.
4. Alessandra Ambrosio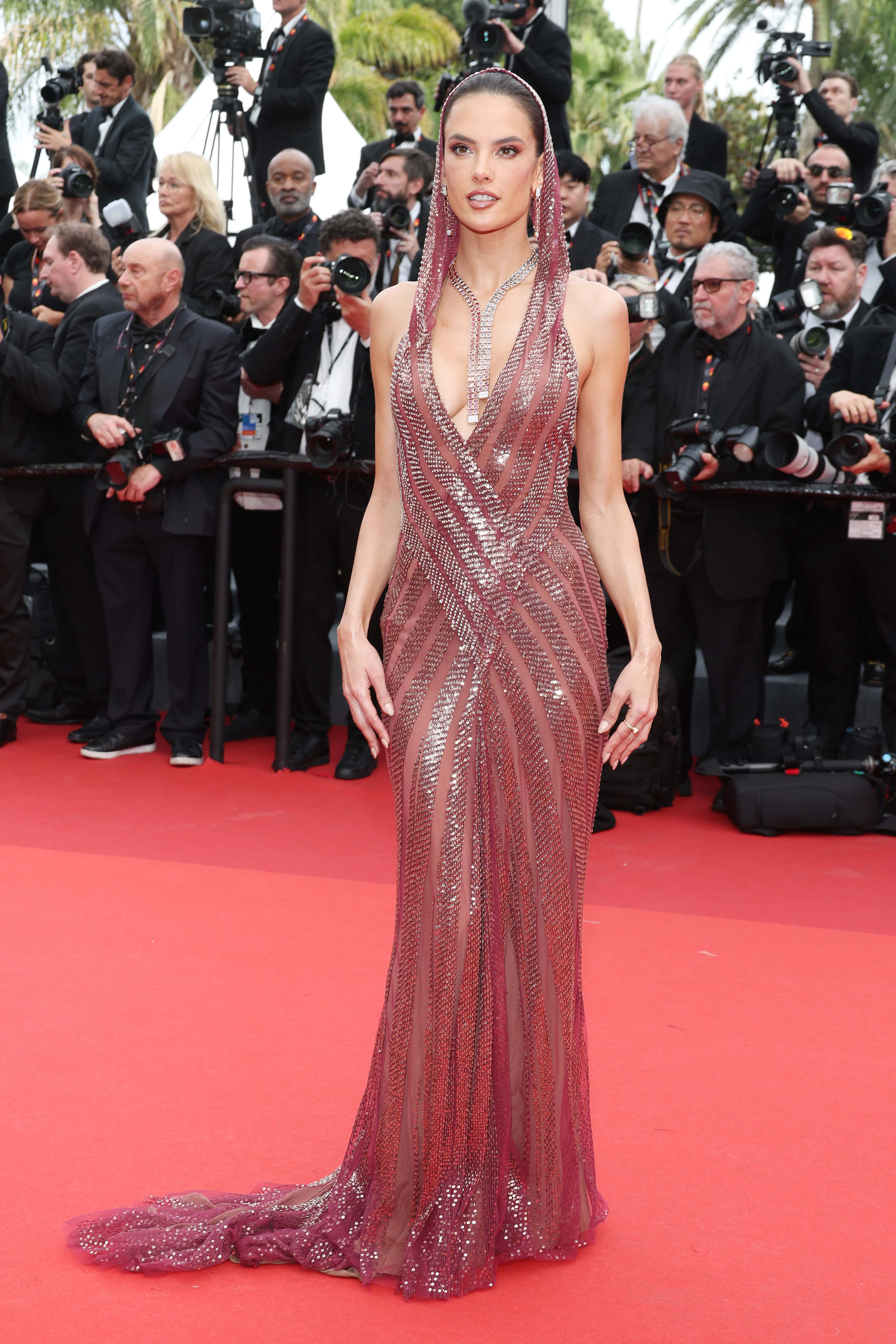 This actress and supermodel looked royal and regal in her deep-plum red hooded Elie Saab gown with accents of a metallic hue and a low neck at which sat a thick amalgamation of lovely rubies and diamonds from Pomellato.
5. Naomi Campbell
America's Top Model alum rocked a classic and chic sleeveless silver glimmering Celine gown designed by Hedi Slimane and silver heels with her hair flowing freely. Her jewelry included an elegant bracelet along with white sunglasses.
6. Uma Thurman
The Kill Bill actress doesn't seem to age as she appeared to be absolutely timeless in a nude-colored, sleeveless Christian Dior gown which she followed up with a crimson red flowing overcoat and her hair in a classic messy bun. Thurman accessorized her neck with a striking maroon Chopard choker.
7. Viola Davis
Davis was a vision in white as she sported a haute couture Valentino white gown with a stunning jacket that touched the carpet. She gracefully walked the carpet looking as radiant as a dove.
8. Brie Larson
The sensational Captain Marvel actress stayed true to her name and shone as bright as a star in her gorgeous golden attire. Larson was decked with Chanel from head to toe in a lovely abstract bodice and golden pants. Her blonde hair perfectly complemented her outfit.
9. Pom Klementieff
Klementieff changed the definition of purple power and had a perfect contrast with the carpet in a bold bright purple. The Versace ensemble had long gloves attached to the sleeves of the latex gown that had a slit on its side. She paired it off with slick back hair, purple heels and a radiant layered diamond choker with matching earrings.
10. Catherine Zeta-Jones
The fierce and ravishing Catherine Zeta-Jones matched the vibe of the carpet with her fiery red gown designed by Elie Saab. The intricate gown had a deep neck featuring accents of red in its pleats. The Wednesday actress also stunned in smokey-eye makeup with lovely beaded earrings and maroon heels.