Irina Shayk 'Rushed' to Tom Brady's Tribeca Condo Post Vacay with Ex Bradley Cooper Irina Shayk has been in the limelight in recent times because of her mysterious love life involving her ex Bradley Cooper and current beau, Tom Brady. Although she seems to be getting quite comfortable with the retired NFL star, the supermodel only recently took a very cozy vacation with the A-Team actor. Yet, it doesn't look like she's interested in getting 'rekindled' with Cooper. Now that her Italian getaway is over, the supermodel was spotted rushing to her (apparent) lover Brady's apartment just yesterday.
Also Read: Irina Shayk May Be Caught Between Ex Bradley Cooper and Tom Brady as She 'Hopes' to Settle Down Soon
As per Page Six, both Brady and Shayk arrived separately at the former quarterback's luxe apartment in Tribeca on Monday at noon. Both of them were in the same Black SUV for approximately 20 minutes before Brady left, and his rumored partner followed after 10 minutes had passed. As per reports, the two had a lovely afternoon inside Brady's breathtaking apartment in New York.
The single mother paid her visits after she recently graced the glamorous New York Fashion Week and walked the ramp for famous designer Michael Kors. She looked as stylish and ravishing as ever in her outfit of the day: a black leather and velvet floor-length gown. Shayk was observed to be donning a similar avatar when she was spotted rushing to Brady's $37 million apartment.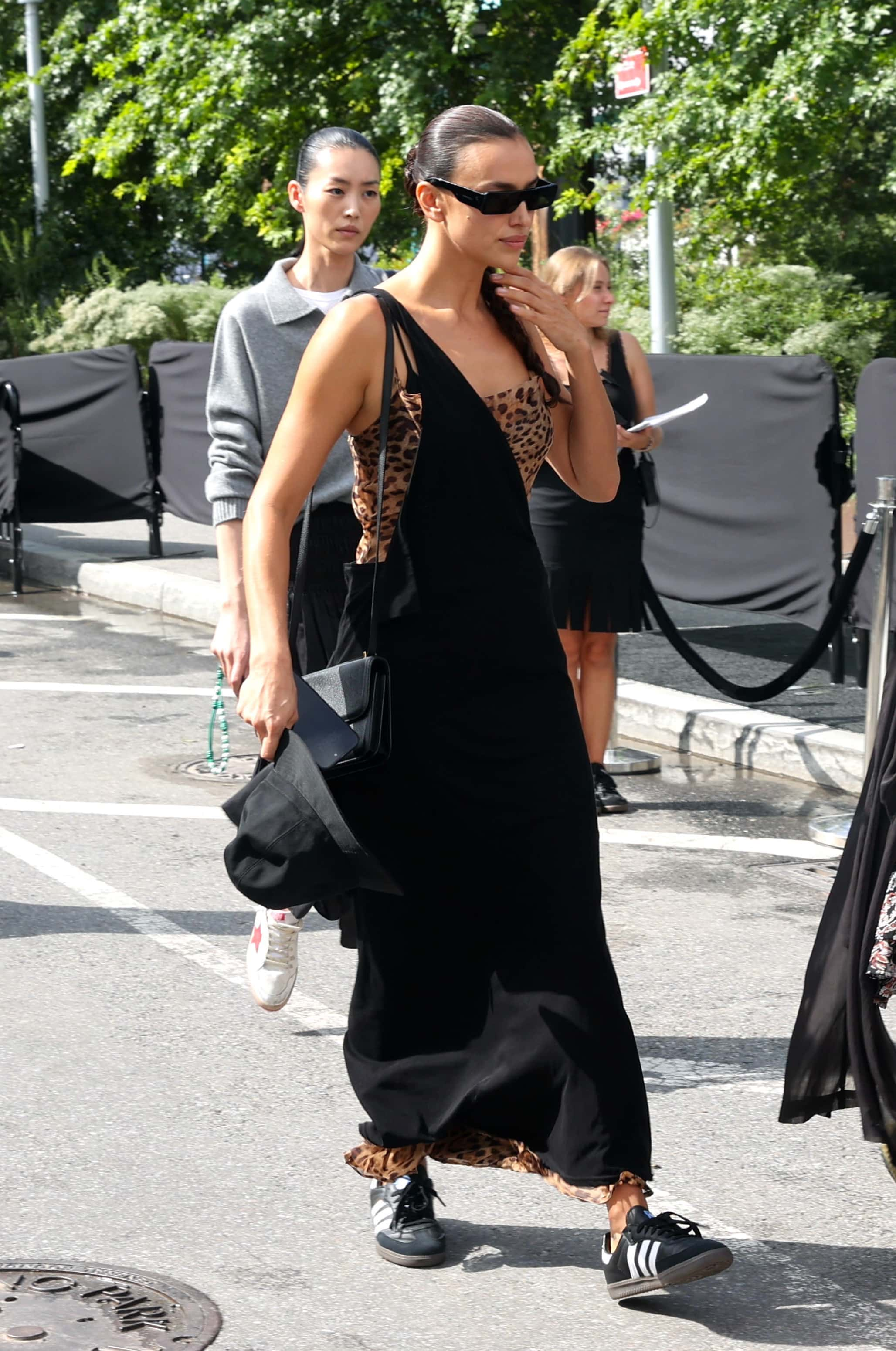 Also Read: Tom Brady Reacts to Irina Shayk and Bradley Cooper's Recent Family Vacation in Italy
The supermodel styled herself with a black off-shoulder layered dress with leopard print patterns. She paired the dress with a pair of black Adidas walking shoes and a chic Hermes shoulder bag that blended with the color of her ensemble. Finally, to beat the heat, she flaunted a pair of sublime shades and a sun hat.
Also Read: An Unfazed Tom Brady Unwinds on Yacht as Irina Shayk Enjoys Family Vacay With Her Ex Bradley Cooper
Brady was observed to be twinning with Shayk in a jet-black outfit. He sported comfy joggers, along with a black hoodie and a white baseball cap. To tie the outfit together, he donned a fresh pair of Nike sneakers that appeared to be in near-mint condition.
---
View this post on Instagram
---
While he lay in wait in the SUV, the former American Football star had the 'hood' of his hoodie on. However, as soon as he stepped out of the car, he took off the hood and adjusted the cap on his head in a smooth manner. He simply grabbed his water bottle and headed off to the apartment.
Earlier in July, while Shayk was on a holiday with The Silver Linings Playbook actor, an insider close to Cooper revealed how the actor felt about his former lover hanging out with Brady. As per claims made, Cooper apparently isn't "freaked out" by Shayk's 'relationship' with the NFL legend, with a source saying, "Right now, he is taking a wait-and-see attitude." The insider also noted that since neither Shayk nor Brady has addressed their alleged romance, it "could be over in two, three weeks."
More from Inquisitr
Irina Shayk Vacations With 'Ex' Bradley Cooper Despite Romance Rumor With NFL Player Tom Brady
Jennifer Lawrence Once Played Cupid For Taylor Swift and Bradley Cooper, It Did Not Go Well