Hailey Bieber's Backless Mermaid Dress Steals the Show at Beyoncé's After Party Hailey Bieber, the renowned model and Victoria's Secret Angel, is known for her impeccable fashion sense and her ability to turn heads with her stylish outfits. Recently, she shared pictures of herself in a mermaid-inspired dress, and it has been making waves on social media. The pictures were shared amid her ongoing feud with Selena Gomez, which has been the topic of discussion among their fans for quite some time now.
Hailey Bieber's latest Instagram upload showcases her in a backless mermaid-looking mini dress in sea green with transparent detailing. The dress, designed by Valentino Haute Couture, is covered in iridescent paillettes that give it a scale-like quality. The spectacular dress was paired with black Valentino heels that cost $1,150, according to Page Six. Hailey accessorized the dress with diamond earrings, black heels, and her signature glam makeup with glossy brown smokey eyes and nude lips. She kept her hair open in a short bob with a middle parting and looked stunning in the chic attire.
While Hailey's outfit definitely made a statement, the comments section was largely focused on her feud with Selena Gomez. For the uninitiated, Hailey and Selena have reportedly had an ongoing feud for several years now, with their fans pitting them against each other on social media.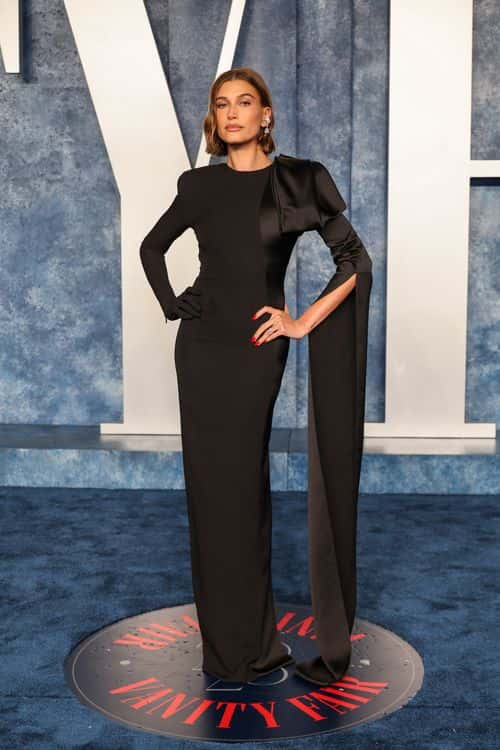 Recently, Hailey and her friend Kylie Jenner posted pictures of their over-laminated eyebrows on Instagram, which fans speculated were a dig at Selena. This fueled the already simmering feud between the two stars and resulted in a barrage of negative comments directed toward Hailey.
In response to Hailey's latest pictures, netizens took to social media to troll the model. As per Koimoi, some compared her to Russian President Vladimir Putin, while others accused her of trying too hard. One user even suggested that Hailey was the one posting pictures on Justin Bieber's Instagram account, as she was not posting any pictures of him on her own account. While the comments section was filled with negativity, there were some who came to Hailey's defence. One user wrote that people should stop pitting women against each other: "We shouldn't judge people who we don't know. Nobody knows the whole and detailed story but them. Hopefully that someday the world stop confronting woman vs woman."
Despite the negative comments directed towards Hailey, she continues to focus on her career and her passion for fashion. The model has always been vocal about her love for fashion and her desire to make a mark in the industry. Over the years, she has collaborated with several designers and brands and has established herself as a style icon in her own right.
Nonetheless, Hailey Bieber's latest pictures in a mermaid-looking dress have been making waves on social media. While the comments section was largely focused on her feud with Selena Gomez, there were some who praised her fashion sense and stunning looks including her stylist, Karla Welch who appreciated the Disney princess energy and commented, "Lil Mermaid."