10 Memorable Moments When Taylor Swift Stole the Show at the 2023 MTV VMAs Here's How Taylor Swift Stole the Spotlight at the 2023 MTV VMAs
Also Read: Taylor Swift Meets Alleged Boyfriend Travis Kelce's Family and Friends, VisitKansas Home
It's safe to say that the 2023 MTV VMAs were a roaring success for numerous musical talents in the industry. But, one particular pop star stole the show entirely, and that's none other than the phenomenal Taylor Swift. The Love Story singer looked incredible as she donned a chic black dress without sleeves. She appeared to be going for a subtle punk-rock look, with hues of gold and black present in both her makeup and ensemble. Even her layered necklaces gave off a similar vibe. Now, if you're curious about what else made the night so special for the singer, look no further. Let's take a look at Swift's top 10 moments at the VMAs, from her possibly newfound friendship with Ice Spice to her fangirling over NSYNC's reunion.
1. Dancing in the Audience
A very wholesome moment for fellow Swifties was watching the Lover singer groove to the music during performances. Regardless of which famous artist was on stage, when the music came on, she busted some pretty good moves nonchalantly. The singer truly appeared to be enjoying themself alongside her other pals who accompanied her that night. Swift was observed to be dancing with enthusiasm and didn't seem to bother who was looking at her, which is why her fans simply couldn't get enough of her at the 2023 VMAs.
Also Read: Travis Kelce's Brother Jason Says, He is 'Going Above and Beyond' for Taylor Swift
2. Cheering for NSYNC
Also Read: Taylor Swift Wraps Arms Around Travis Kelce's Neck At His Postgame Party, Dating Rumors Fuel
The most anticipated moment was definitely when NSYNC reunited at the VMAs, and it was one of the major highlights of the evening. Swift was equally thrilled as the fans of the boyband (if not more), as she passionately cheered them on while performing on stage. She had her hands high in the air and was very clearly seen enjoying the iconic reunion of NSYNC as they worked their magic on stage. She was often observed to be jumping out of her seat and wholeheartedly clapping for them during their performance on stage.
3. 'Chilling' with Ice Spice
Fans might have been slightly distraught, given Swift was not seated alongside her best friend and Calm Down singer, Selena Gomez. But they were not disappointed after seeing the budding rapper Ice Spice hang out with the Delicate singer while enjoying the night of celebrations. The two were observed to be chatting away and giggling on numerous occasions. The Deli rapper was all smiles around Swift and was seen giving her a warm hug every time she was called for an award.
4. Everytime Swift Won an Award
The Never Getting Back Together singer had some big wins this year and took home the most trophies (also called Moon Men) this year. However, an especially heartwarming moment was when she won the Video of the Year award for Anti-Hero and dragged editor Chancler Haynes and cinematographer Rina Yang along with her. This gesture truly touched the hearts of many fans of hers. The Grammy winner walked with both of them hand-in-hand as she accepted her respective award and made sure she credited them in her speech. After receiving the chrome trophy, they walk back in a similar fashion.
5. Accepting a Friendship Bracelet from NSYNC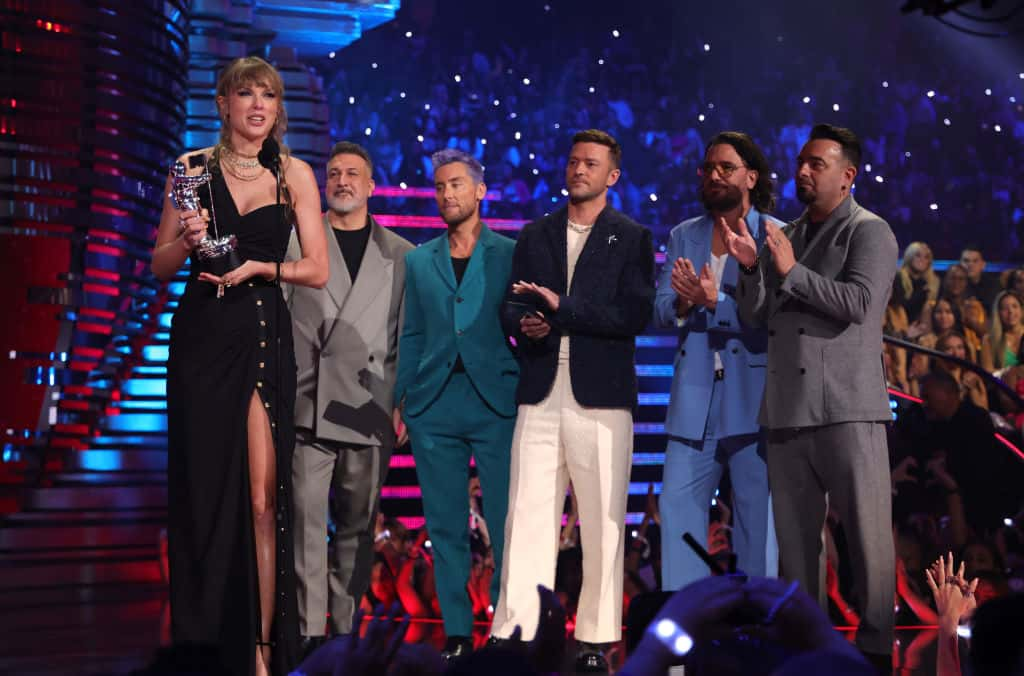 Another adorable moment at the VMAs was when Swift was called on stage to accept her award for the Best Pop Video of the Year, and it was none other than the 90s boy band NSYNC who presented it to her. They each appreciated her for this marvelous achievement and gave her a little token of their love and respect: a friendship bracelet. As soon as she was handed this precious tchotchke, she said, "You're pop personified, so to receive this from your golden pop hands is really… it's too much," reports ABC News.
6. Her Many Candid Reactions
There were definitely some surprising moments throughout the night that gained some peculiar reactions from the celebs present. However, Swift's genuine and candid reactions (whenever her fellow singers and artists won) were truly heartwarming for her fans. She'd often have a twinkle in her eye with an expression of joy registered clearly on her face as her friends would accept the coveted Moon Man. In fact, she would also get up off her seat, bounce with happiness, and loudly cheer for nominees/winners as the evening went on. This awe-inspiring reaction of hers throughout the night made it a top moment for Swifties everywhere.
7. Meeting Billy Porter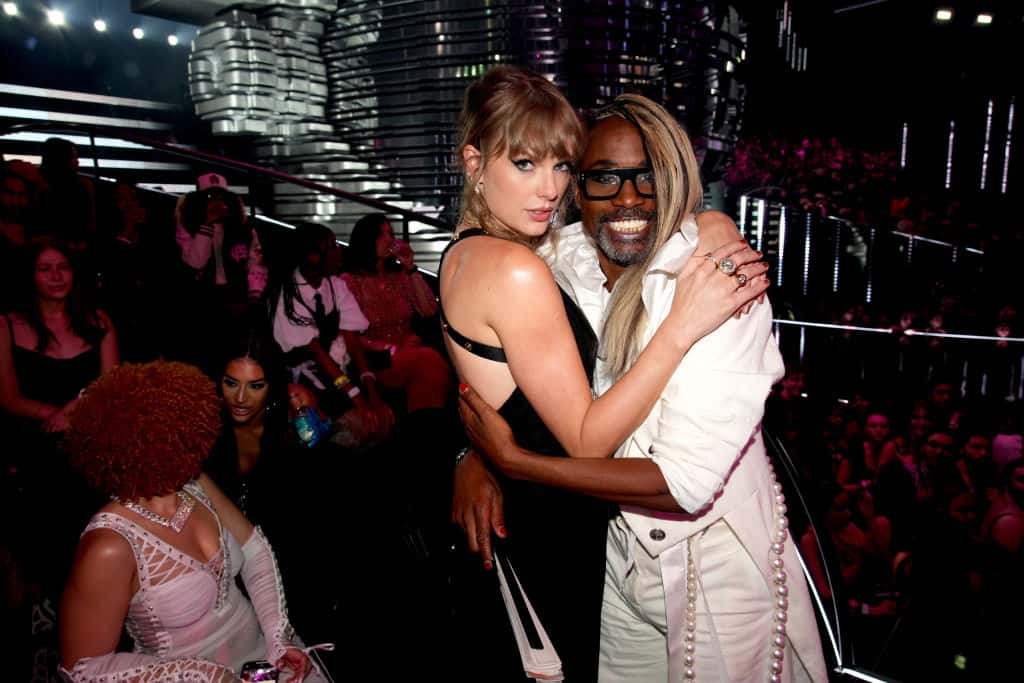 The highlight of everyone's evening was when Swift finally met Billy Porter backstage. The LGBTQ+ Advocate was also featured in the You Need To Calm Down video, which raised awareness about the community and spread the beautiful message of love. But what's surprising is that the Me! Singer never once physically met Porter until this year's VMAs, according to Metro. The two appeared to be like Yin and Yang—Swift in the gorgeous black gown and Porter in a divine white ensemble. It was indeed a fateful and gleeful moment for the both of them.
8. Accepting the Best Direction Award
Another proud moment for the Swiftie fandom was when Swift accepted the Moon Man for the Best Direction Award for her Anti-Hero album, according to the Hollywood Reporter. This one particular album has gone above and beyond in terms of artistic vision, with beautiful aesthetics and exemplary cinematography. Moreover, it was directed by none other than Swift herself! It, thus, comes as no surprise that this beautiful album went on to win her additional Moon Men, including awards for Best Video and Song of the Year. The audience, filled with a sea of fans and decorated artists, stood in elation as they celebrated her achievement.
9. When She Flaunted Her Moon Men
The Cruel Summer singer won big at the VMAs as she went home with a total of nine Moon Men trophies, per The Guardian. She received 11 nominations for a variety of categories and managed to truly go home victorious. At the end of the awards night, she posed with her victorious haul in a chic blue dress and sported her iconic red lipstick. Her outfit was made complete with a lovely pair of similar heels. This was an incredible night of success for the artist as she proceeded to create history by becoming the first artist to take the Video of the Year award two years in a row.
10. The Long-Awaited Moment with Selena Gomez
This list would be incomplete without this honorary mention of the moment fans were most thrilled about. Swift and Selena Gomez have been friends for nearly a decade and often spend time with each other at any presented opportunity. Although they were seated apart from each other this year, the two managed to spend a few minutes with each other and were seen to be having an apparently wholesome conversation. Like Swift, Gomez looked fierce in her striking red gown with a plunge neck and her long hair left free.
More from Inquisitr
'Parking Lot Swifties Is a Thing': Here's Why They Say Taylor Swift Can Rule the World
This is How Taylor Swift Responded to the Slut Shaming She Faced in Her Early 20s: "Don't Let Anyone Stop You"